The explosive popularity of podcasts shows no sign of slowing down, even as we commute less. Whether you're in the car, on your bike, at your desk, or on your couch, listening to a podcast is an effective way to multitask while gaining valuable business insights from industry experts and thought leaders. While there are thousands of tech and business podcasts to choose from, here are our top picks for MSP owners.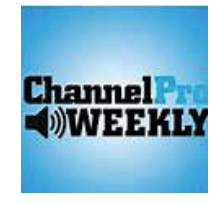 Dissecting The Latest Channel News, One Week At A Time
The "ChannelPro Weekly" podcast provides news and insights for channel professionals, focusing on topics of interest related to the recent week in IT news. The (always) entertaining guest interviews with co-hosts ChannelPro technology editor Matt Whitlock and executive editor Rich Freeman make this broadcast worth the lengthy episode format.
———————
Your Pulse On The MSP Landscape
With a rotating cast of new IT services industry experts every episode, the "Connecting IT" podcast provides MSPs with concise insights and valuable commentary to build and grow your business while keeping you informed on industry trends and hot button issues and tuning you in to where the market is headed and how you can make the most of it.
———————
The Voice Of Solution Providers
Dave Sobel, host of "MSP Radio" takes a vendor-agnostic approach and gives you a candid view of the latest news in the IT industry. His raw, well-informed commentary will help you stay up to date and in the know as you navigate your business and plan for your growth strategy.
———————
The Podcast For IT Consultants
Whether you're an IT consultant, an MSP, or an IT solution provider business owner, "TubbTalk" shares valuable advice on how to be the best at what you do. Recent episodes have focused on productivity and topics such as how to outsource your NOC, SOC, and Helpdesk. The podcast will help you with valuable advice as you eavesdrop on host Richard Tubb's conversations with the IT industry's top thought-leaders.
———————
Build Your IT Business While Learning About Whiskey!
Here's a podcast focused on the secrets you can use to build your IT business, while learning about whiskey! Listen in as three IT industry veterans discuss the struggles of running an IT business (or any business, for that matter) and their passion for whiskey. Enough said. Listen and enjoy, ideally in front of a roaring fire.