Brady Rose, Vice President of Burk IT, explains how the IT firm experienced a difficult transformation to bring proactive and secure IT to businesses without losing the feel of a local customer service experience.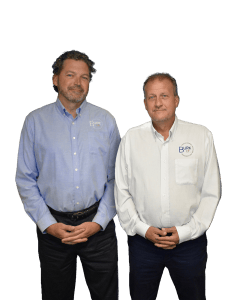 If you've ever been given any good life advice, you've probably been told you need a good friend who's an attorney, a good friend who's a doctor, and a good friend who's an accountant. Today, business owners should consider adding another friend to that list – their IT provider, says Brady Rose, Vice President of Burk IT.
Finding a service provider can be done in seconds through a quick Internet search. Finding one you can trust, however, isn't as easy. Highly regulated businesses like medical and financial organizations depend on IT experts to understand complicated compliance standards or high-pressure situations. This means taking on some risk when you outsource your IT services. Will they answer an emergency call in the middle of the night? Will they respond in 30 minutes or less? Do they provide practical, secure IT services?
Burk IT's answer to those questions is yes. "We're a name you can trust," Rose says. "We've been around for many years, and we're going to do the right thing at the end of the day." In the Tri-Cities region of Northeast Tennessee, confidence in relationships matters to business owners. "They want to know, 'How do we get the IT services we need locally from someone we can trust?'" says Rose.
For more than three decades, this has been the need Burk IT sought to fill for clients, even after new technological advancements transformed how IT providers served clients in the early 2000s. As the technology and cyber security industries evolved, hardware and maintenance sales went down 90% for the company, which primarily operated break-fix services at the time. "It was common to go home on payday, and my wife would ask, 'Are we getting paid this month?'" Rose remembers.
Still, clients needed improved cyber security and technology services – and Rose and Burk IT employees needed to earn a livelihood doing what they loved. So, Burk IT transformed its services into one of the fastest-responding IT firms in the Tri-Cities that always keeps client relationships at the center of its work.
A Name Tri-Cities Businesses Trust
For many years, the Tri-Cities was a hub of hardware sales and services. Copier sales, typewriter sales and all the IBM services and hardware came from Upper East Tennessee, extending to rural Southwest Virginia, Eastern Kentucky, and Western North Carolina. "This was the hub back in the day," says Rose. In 1996, two former IBM employees founded Burk IT (originally called Client First Services). The company focused on reselling and installing hardware, and IBM, the founders' former employer, even hired them.
A few years later, 50% of the company was purchased by Dent K. Burk accounting, a well-known name in the area. Client First Services became Burk IT Consulting (later dropping "Consulting" from its name), and for 19 years, they never spent a dime on marketing, thanks to personal references. "That was specifically word of mouth. We were very proud of that; we wore it like a badge," Rose says. Eventually, Rose and Burk IT President Jimmy Orton, bought the company from Dent K. Burk but kept the name Burk IT – a name clients had grown to respect and rely on. But as technology evolved and clients required greater protection from hackers and needed advanced tools to keep up with a competitive market, Burk IT realized it needed more than a reputable name to continue giving its trusting clients the IT services they needed.
In the early 2000s, the computer market became more virtualized, and hardware sales – and consequently services and maintenance – went down nearly 90% for the IT firm.
"We knew that our buckets of income were shrinking. We were being asked to do more, and we needed more skill sets," Rose says. Vendors knocked on the door, telling Rose his team needed more certifications. With a 12-person team at the time, they couldn't stop putting out fires long enough to get certified in something else. They needed to make a change to meet the needs of their clients and their businesses.
After researching IT models, Burk IT felt the managed services provider (MSP) model was the best way to offer clients quality services like remote data management and cyber security software at a monthly rate. Moving from a pay-by-the-hour model, clients paid a monthly fee for all required services and maintenance. The key was all in the pricing. Too high, and longtime clients would walk away. Too low, and Burk IT couldn't afford employee salaries. "It was an enormous amount of pressure, but as owners of the company, we had made a commitment to ourselves, our families, and our employees that we, the owners, get paid last," Rose remembers. Rose and Orton sometimes went a month without getting paid in order to support their employees, buy enough time to make the model work without negatively impacting the client experience, and keep the company afloat.
Their first MSP model was what Rose called the "Cadillac" of IT services.
Every client would receive a huge breadth of computer and security services at a hefty monthly rate. All their bases would be covered, but it wouldn't be cheap. The problem was that many of their longtime clients were small medical, financial, and manufacturing companies that didn't need that many services and couldn't afford them.
"We had to reinvent ourselves and stay relevant while also maintaining the integrity and trust we had built up over the years with our clients," Rose says. They had to start again. They scrapped the Cadillac model and developed a customized four-tier model to ensure all their clients receive the services they need at the right price – without losing their friendly, local experience. "The managed services program became vital to our organization because we could support our customers more efficiently," Rose says. Today, all clients receive services bundled in one of their four security and IT services packages.
A multitiered approach to managed IT services allows Burk IT to add value to its offering, from improved services to critical tools like e-mail encryption and malware detection.
New tools weren't just for clients either. Burk IT upgraded its communication processes and productivity, never sacrificing client relationships. "Our tools allow us to share information, from configurations to internal notes. At the end of the day, we develop relationships, and our clients want the same person because they aren't going to have to figure out the job again," Rose explains. Burk IT can document solutions from years prior without ever missing a beat. "It allows us to grow in a different direction, and now we are doing much more for our clients than we were for the first 15 years," he says.
Quality Is Remembered
Burk IT believes cyber security is fundamental to every organization; it's not an upsell or an add-on. Security is 'baked in' – that's a phrase Rose helped coin at Burk IT, and it drives and dictates the packages and rates they worked for years to perfect. "One of the original IBM guys who founded this company, his favorite IBM saying was, "Prices are forgotten long after quality is remembered," Rose says. "We never plan to be the cheapest, but we will always provide a quality product."
The Current State Of Cyber Security
Quality products and relationships are at the heart of everything Burk IT does, benefiting clients even in situations they didn't see coming.
Sometimes problems are apparent or expected; other times, they happen suddenly and without warning. Rose remembers when a large storm came through the area and a client lost power. "We were waiting in the parking lot before the client opened their door and realized their systems were down," he says. "How big of a deal is that to have your IT guy walk through the door with you?" For business owners whose livelihood is their business, as is the case for many of Burk IT's Tri-Cities clients… it's a big deal.
When you're running a business or rely on computer systems, you know how important it is to trust that your computers and systems will work every time. Rose points out that Burk IT is the only IT firm in the Tri-Cities with a guaranteed 30-minute-or-less response time, and they answer phones live, 24/7. Service like that means Burk IT clients get proactive and secure IT services, at one monthly rate, with the feel of a hometown service provider – and Rose says that makes all the difference for their team and their clients. "It means we get to go home on time," he says. "And it means we get a little better sleep at night."
For more information on Burk IT, visit www.burkitc.com.