After his second stroke at the age of 33, Bill Ramsey changed his outlook on life. Using his philosophy "My future is today," he's built three MSPs and a life worth living.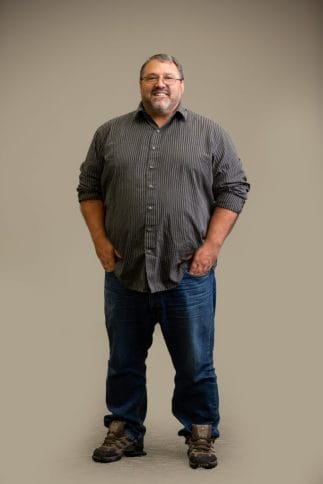 Bill Ramsey's wife called to him from the bathroom of their hotel room in Galveston, Texas, asking if he could grab her a towel. They were getting ready for brunch with friends. As he turned around, he felt a silent firework explode in his head. "There was no noise, sound or pain, but it was like a white firework went off in my head, and everything went black," Ramsey remembers. Then he passed out. When he woke up, he was blind. "I felt my way to the top of the bed, and I just sat there trying to figure out what happened." Thirty-three-year-old Ramsey was having a stroke.
A New Outlook On Life
Within a few hours, Ramsey regained some of his peripheral vision, enough for him to enjoy a few more drinks on vacation before promptly seeing his doctor. "Since I did not go straight to the ER or take aspirin, the doctor said I was lucky that the alcohol, at least, thinned my blood a bit," says Ramsey, though going to the ER was the better choice, he admits. "My doctor explained that I had a stroke due to a hole in my heart that's relatively common." Ramsey has a patent foramen ovale, occurring in one in four people. Most don't even realize they have the condition, but a PFO can lead to complications like stroke for a small number of people. For the 33 -year-old former bodybuilder, it was not the news he was expecting to hear.
The doctor confirmed that this most recent stroke wasn't Ramsey's first. He recalls his first stroke at 28, but he didn't know what had happened at the time. After some time in the hospital and more than a year of recovery, he lives with a few permanent side effects, but more importantly, an entirely new outlook on life. "I'm going to enjoy everything I can possibly enjoy. When I travel, I try to absorb and learn everything I can," he says. He's allergic to seafood, "which is limiting to me," he jokes. "But I try to experience everything I possibly can."
Even when his first MSP was taking off, he never considered slowing down because of his condition. "The idea that I wasn't going to be able to keep up with my business never entered my mind; I was doing remote support from the hospital bed," he says. "But it has changed my outlook on living my life." For the next 17 years, Ramsey has only lived by this philosophy of living life for today.
You Want Something From Life? You Have To Go After It Today
Even before his medical condition, Ramsey believed that the effort you put in today helps you design the life you want to live. Growing up on an 800-square-foot farmhouse outside Wichita, Kansas, Ramsey never knew his family was poor. As a child, he understood that if he wanted that shiny $100 bike in the store window, he had to earn it. "I would ride my bike in an eight-square-mile section and go to every neighboring farmer and ask for any odd jobs they had," Ramsey says. He washed cars, milked cows, collected chicken eggs and vacuumed living rooms. "Nobody taught me that; I just did it myself."
Even after a successful career working with networks and cyber security worldwide in the Navy after high school, he knew it wasn't the right fit. "I realized pretty quick I didn't like being told what to do or how to dress," he says. When he left the Navy, he remembers being offered a job by a massive computer company. "When I went to the interview, I had to dress up for it, and getting into the company felt like getting into Fort Knox. When they offered me the job, I said, 'I just got out of the military, and I'm not looking to get back in. Thank you, but no.'"
In the years after the Navy, Ramsey worked at a break-fix computer shop and then was hired as IT director for Halstead Hospital and Hertzler Clinic. For three years he managed IT and served as HIPAA Security Officer during the tense years of the Y2K bug and HIPAA implementation.
Entrepreneurship entered his mind when he started working at the break-fix company. Ramsey enjoyed helping his clients, but when he found out that the owners were negotiating terms to sell the business without telling him, he quit. "I walked out the door and went, 'What am I going to do now?'" he remembers. He didn't wait. He contracted a new client and built his own business, The Bill Guy Technology Solutions, within eight hours.
Building A Better Model
At The Bill Guy Technology Solutions, Ramsey offered typical break-fix services, but he started thinking that running a business that way wasn't efficient for anyone. "I kept thinking, if I fix something well enough, I never have to hear from them again until it breaks. When it breaks, it's an emergency," he explains. "I can't grow this business operating that way. There must be a better way."
He researched managed services providers in 2006, and though the business model was in its infancy for the industry, he understood it was the right choice. The difference between an MSP model and the break-fix model comes down to how projects are managed. Instead of being paid for work every time a tech must fix a problem, a client is billed a monthly or flat rate to keep their technology maintained – i.e., to prevent problems in the first place. Ramsey realized the MSP model benefits both parties. "In the MSP model, my vision is aligned with the customer's," he says. "They want things running as well as they can all the time. If I must fix something, it cuts into our profits, so this way, our visions are aligned, and the customer doesn't have as many problems." (How To Get Prospects To Automatically Accept Your Proposed Managed Services Plan)
Since 2001, Ramsey has built three MSPs, opened and sold four uBreakiFix stores and served as HIPAA Security Officer for several medical organizations. In 2011, just a few years after his stroke, he was the SBA Small Business Person Of The Year in Kansas. In 2010 and 2011, his business was a finalist for Small Business Of The Year. He sold his first business in 2012 to Cybertron, but his clients still call him "The Bill Guy." Just a few days ago, Ramsey's first client, from 2001, called him up. "They found out I had another MSP and they wanted to talk," he says. That's the type of business that Ramsey runs: a memorable one. So impressive that when another former client, Steve Austin, had two horrible experiences with IT firms a few years ago, he approached Ramsey for help.
Austin asked Ramsey to help him build a new kind of MSP, but Ramsey wasn't sure he wanted to start another business. He'd already built and sold two companies and a handful of ubreakiFix stores. Maybe he'd retire this time. But Austin pushed. "He had enough of them raising prices and taking too long to get things done. He didn't feel like he was important to them," Ramsey explains. "I think it was because he felt we valued him. People talk about white-glove treatment and concierge, and that exists. With us, he actually felt he was important and wanted to go back to that."
So, Ramsey gave him a list of demands based on his lessons from running other companies. He wanted to hire top-notch engineers so clients didn't have to escalate. They would offer a broad scope of expert services so clients have everything they need under one roof. If he were to build a third MSP, it would be made to last. Second to none. "I had a couple of different job opportunities on the table," Ramsey recalls, "but I chose Steve because it was my best option to accomplish what we wanted to accomplish." If Ramsey wants to do something, today is the day he's going to do it. They called the company Soteria, after the Greek goddess of protection.
A Few Steps Ahead For Clients
Today, as CEO of Soteria Technology Solutions, Ramsey takes advantage of every day and looks ahead to find ways to help clients now. That's why Soteria's recent shift focuses on CMMC and HIPAA compliance and acquiring one of the region's few Registered Provider Organizations that consult and implement on the CMMC compliance process. Much of his region is in manufacturing, and he knows this is the way forward. "We're focusing on companies that require compliance but don't know how to get there. They need a team that understands the requirements and how to get them there. We're trying to give them that all under one roof," he says. "It was something I could see the market shifting to, and we're a few steps ahead of it."
It's why Ramsey works to bring on additional experience and services to his business. "I've heard from multiple companies that they'd like to have one place where they can have their website, e-mail, phones, all in one spot. We're acquiring because we want that experience and service for clients."
Today Is The Future
Ramsey doesn't spend energy on anxiety or stress, he says. "I live my life always for today. I know beyond a shadow of a doubt that I may not have tomorrow. I don't get that longevity that other people do," he says. "I don't have a bucket list. If I see something I want to do and have the money available, I do it." He admits that retiring isn't in his near future because his work gives him daily motivation. "I have to be involved in the community; I must have some kind of purpose. My work gives me purpose," he says.