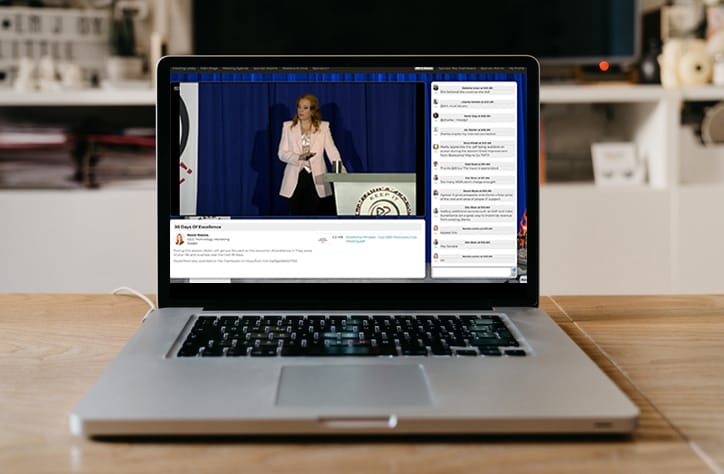 The virtual event has become the most popular way to hold meetings in this age of COVID-19. Seventy percent of companies have moved their face-to-face events partially or fully to a virtual platform and many don't see this as a short-term fix. (Event Marketer, 2020)
As online events rise, embracing them will make you stronger. As you adapt, there are a few things you need to know to create an impactful event, keep people hooked, and avoid getting burned.
Prepare properly. Events, whether they are in person or virtual, require detailed planning. However, planning becomes even more important in a virtual world because there are additional items to think about that are of no concern in a live setting. For example, at a live, in-person event you have a more captive audience but when you're streaming an event online, you must worry about people tuning out. A few things to consider are:
Do you want your event to be live, on-demand, or both?
What are the key performance indicators and data you want to track?
Do you want to use gamification (the application of game-design elements and game principles in non-game contexts) to keep people engaged?
Will you have sponsors that require virtual exhibitor booths?
Make your session titles and descriptions compelling. When people attend a live event, it's common for attendees to choose a breakout session based on what the crowd is doing. But with virtual events, they will choose based on the session titles and descriptions you write. If these don't evoke curiosity and interest, you'll face two problems. 1) You may not attract people to your event. 2) You risk losing them as they will opt to jump offline and do something else.
Be innovative. Think about what you can do that will not only draw people to your event but keep them tuned in throughout the entire event.
"When you're running a virtual event, you need to remember that you're now on "TV", not a webinar," Jeff Johnson, VP, Mastermind Groups for Technology Marketing Toolkit, Inc. said. "The action needs to keep moving consistently throughout your entire event. No dead air! In our event, I was at a "news desk" in studio and would be talking and moving everyone along when the main stage or breakout rooms were not running live. You never want your attendees to leave… in virtual events it's too easy for them to not come back."
When the Technology Marketing Toolkit's largest event of the year was forced to go virtual last minute, the team got creative to keep people engaged. They played videos of their most popular celebrity speakers that appeared at past events during breaks, had a virtual network lounge where attendees could hang out and chat with each other. Attendees had plenty to do and see. There was an immersive exhibit hall where attendees could interact with vendors, view live product demonstrations, and more. They even had entertainment such as boxing jokes that tied in with their bootcamp theme.
While scheduling and promoting a popular industry speaker, influencer or celebrity within your industry can provide a major selling point to get people to show up, providing entertainment can hold their attention during breaks. For example, hire an MC who can keep the audience engaged, lead a wellness break, invite a comedian and/or a musician to entertain during breaks – or do all these.
Organizing a virtual cocktail party where attendees join on video with their drink of choice from their respective homes collectively is a creative solution for providing a social way for people to engage. You could even consider sending swag to attendees for the cocktail such as drinkware, a keychain bottle opener, or koozie can cooler with your logo.
Provide incentives. If you are working with sponsors or vendors that have exhibit booths, provide an incentive for attendees to visit all the booths.
During Robin Robins annual bootcamp, the incentive of large amounts of "Technology Marketing Toolkit bucks" were offered to people who visited every vendor booth. These bucks could be spent on Technology Marketing Toolkit's product offerings. To create urgency, they doubled the amount offered for the first 500 attendees who made it to every booth. In addition to viewing live product demonstrations, attendees could live chat or jump on a live video call with vendors, take advantage of bootcamp only specials, and pick up free materials which were instantly added to a virtual briefcase with the click of a button.
Other incentive ideas include drawing names to win items or auctioning off items to raise money for charity. Items might include signed merchandise, gift cards, an iPad, a private coaching session, dinner with you, or something even bigger.
Use event technology. The majority (89%) of businesses using event technology save roughly 200 hours per year, with 20% saving as many as 360 hours. (Bizzabo 2019)
Even more important than saving time is the look and feel of the platform you'll use. Good event technology will produce an intriguing environment that helps deliver a "wow factor".
"The environment of your virtual event is extremely important," Jeff Johnson said. "Your attendees must be transported to another location. They absolutely CANNOT feel like this is a big Zoom meeting or Zoom webinar or they won't stay."
Do your research. With so many companies pivoting to virtual events, it's a hot industry. Stories are mounting about vendors overselling, overcharging, and under-delivering as companies scramble to take their events online. Before signing a contract with a company that provides you with a virtual event platform, you must ask questions so you can make an informed decision…
Can you make last-minute modifications?
Does it have interactive vendor capabilities?
How much time will it take to set up and manage the platform?
Is it customizable and scalable?
How secure is it?
You also need to beware of hidden charges, as we are hearing more and more about price gouging.
The way we do business is evolving. Ready or not, virtual events are here to stay. While challenges exist such as audience engagement and interaction, there are things you can do to mitigate these problems. When you prepare better for virtual events, you can avoid glitches and deliver an event that has everyone talking about you in a good way.
Visit www.BigRedVirtual.com to download your FREE REPORT "The 32 Questions You Must Ask ANY Virtual Event Vendor Before Signing On The Dotted Line".